Users of Bird's dock-less e-scooter rental app got a surprise yesterday through email and the company's application. Bird announced it will start to charge users an extra $2 per scooter unlock due to Raleigh's new transportation tax. Social media quickly lit up with posts, tweets, comments on the new tax Bird imposed on users, but sentiment on the issue is very mixed.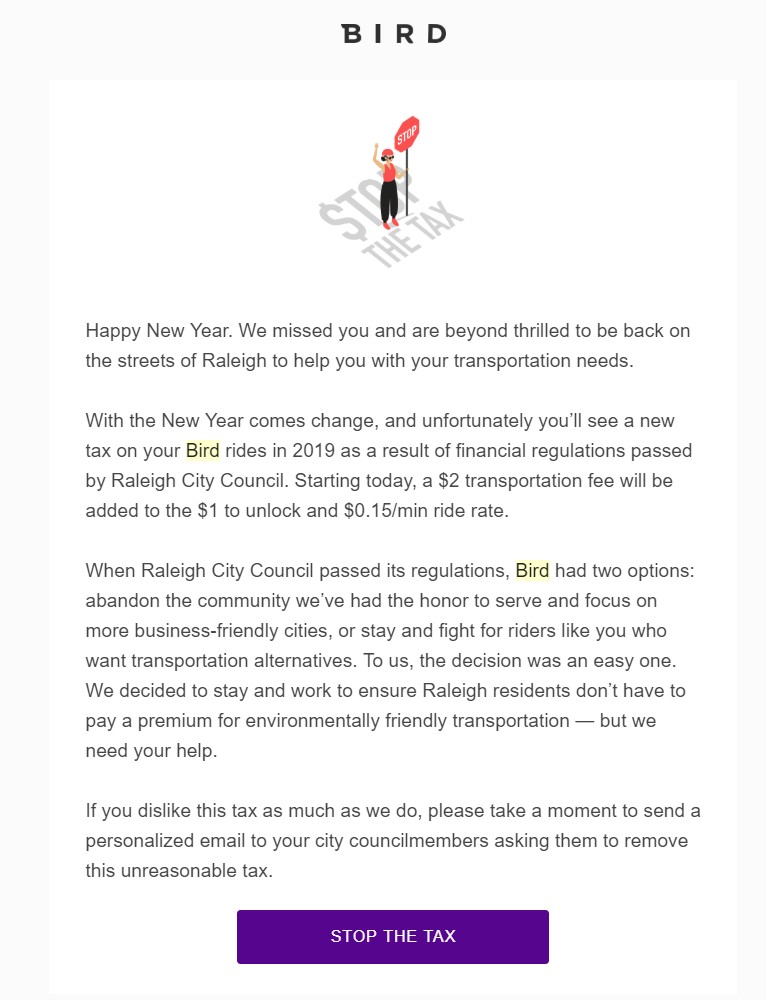 The email makes the case that Raleigh has passed new regulations that created an "unreasonable tax". This "tax" is what Bird is claiming to pass on to it's users. The letter also mentions it "missed" users and that Bird is happy to be back and operating in Raleigh. The email includs a button users can click that takes them to a web form and pre-populated email. Completing the form sends the email to all City Council members.
So there's some truth and some misinformation in this email. For example, Bird never left Raleigh. Below is video from the October 16th City Council meeting where the new regulations were discussed, and debated. The regulations were adopted during the November 6th City Council meeting.
Given the extremely high volume of discussion on this topic, I decided to quickly try and separate the facts and fiction. It's important you're aware of my current stance on this issue so you're aware of my bias. Currently, I believe Bird is wrong to charge such a high extra fee. I also think the city's $300 per scooter, per year, permitting fee is also wrong and too high when combined with the fleet size restrictions, and other regulations. The $300 fee came from a demand made by Councilor Dickie Thompson at the November 6th Council session, however it was also points raised by Councilor Kay Crowder several times that resulted in Councilor Thompson requesting the higher permit fee.
For the details, I'd encourage you to watch the entire October 16th discussion below, but I know not everyone has the time or patience to watch the entire hour. Unfortunately, the debate also extends into the November 6th meeting…so you've got another video later on to watch as well.
Raleigh's New Regulations (Highlights)
Maximum of 500 scooters per operator (with option to change fleet size based on demand, operator performance, and number of complaints generated)
A yearly permit fee per scooter of $300 which will be used by City of Raleigh for enforcement
Scooters are banned from being ridden on sidewalks, green ways, parking garages, and other pedestrian areas
Scooters are required to be removed from public areas during the evening and may be placed back out no earlier than 6 AM
Scooter companies must accept liability for any damages related in any way to the usage of the City of Raleigh's Right-of-way and/or operation of the Licensee's Dockless Scotter System.
Scooter companies must indemnify the City of Raleigh
You can read the entire agreement that scooter companies had to sign with the City of Raleigh here.
So What's The Debate on,?
Currently, people are debating the fairness of two main points. The $300 per scooter per year permit fee (which Bird referrs to as the "New Transportation Tax" in their email), and the cap on the number of scooters to 500 per operator.
Only two company's operate electric scooters in Raleigh as I write this, Bird and Lime. In October Bird had over 1,200 scooters deployed in the City of Raleigh, while Lime had just over 200. This information came from Raleigh's transportation depatment on Twitter.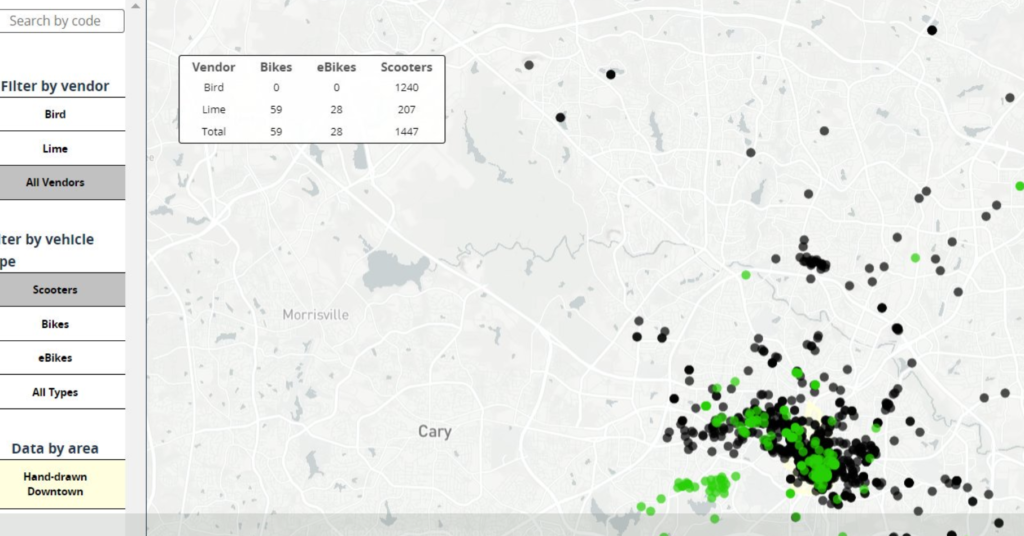 So the regulations have a much higher impact on Bird, than they do on Lime. Bird lost an estimated 740 scooters from it's October fleet size as part of these regulations, which will of course impact revenue generation. However, it's also fair to point out both Bird and Lime had been profiting from city resources without paying anything to the City of Raleigh. Leaving the scooters in the City's right-of-way does and has caused issues for the City, and while the companies do pay income tax to the state and federal government, none of the tax money went to Raleigh to cover enforcement costs.
The other point of contention is the $300 permit fee. Some cities do charge a higher fee, but they don't combine that with a fleet size limit. Typically you either see a very low or zero permit fee, but a fleet cap, or a fee of $100-$150 dollars per scooter with no fleet size caps. Some cities have also added fines for scooters they have to be moved by the city for blocking sidewalks. However, I was unable to find any cities that currently have policy's that have as much demanded from scooter companies as Raleigh's does.
However, I'm not entirely convinced the fleet size limit or the permit fee is the main thing Bird is worried about. After reviewing the encroachment agreement, another item sticks out as very scary for these companies.
The Licensee shall be fully responsible for any and all damages related in any way to the use of the City of Raleigh Right-of-Way and/or operation of Licensee's Dockless Scooter System, including, but not limited to, property damage, personal injury, or death …

MASTER ENCROACHMENT AGREEMENT FOR OPERATION OF DOCKLESS SCOOTER DEVICES 7.2 A
I'm not a lawyer, but this would imply that anyone injured on one of these devices whether they trip on it parked on the sidewalk, or crash it while riding, would be able to sue the scooter company. The agreement also outlines liability insurance the company must provide for these occurrences. Why do I think this is something Bird is concerned about? Because it conflicts with the agreement riders agree to on Bird's website and app.
I think we'd all want the scooter rental companies to be held liable for issues their equipment causes. This has become an even greater concern for me after news started circulating in California in October about Bird mechanics. Like chargers, Bird has begun offering pay to anyone who signs up to become a Bird mechanic. The training mechanics receive, according to the below video , are simply YouTube videos. In the past, Bird had employed shops that had experience repairing e-bikes and regular bicycles to handle all repairs to the scooters. However, as Bird started to deploy more scooters, they started to look for cheaper alternatives. The scooters still get sent to a repair center to major repairs, but it is concerning that very inexperienced mechanics are performing repairs on major components like brakes which if done improperly, could seriously harm people.
Bird's Claim on Tax
Bird claims the new $2 extra fee to Raleigh riders covers the cost of the "New Tax" imposed by the City of Raleigh. While the $300 permit fee is excessive in my opinion, the $2 fee Bird is charging users is roughly 10x the amount needed to cover the fee. Let me go through how that got figured out.

"…Save Our Sidewalks Pledge. The three core planks of the pledge include: collecting all vehicles each night for charging and necessary maintenance; practicing responsible growth by only adding more vehicles when each Bird averages three or more rides per day …"

Post on Bird's Website
Now I had to dig really hard on Bird's documentation to find that bit of information. While it's great to see Bird making pledges to do better for communities, don't mistake their pledge to only add more scooters if they're averaging 3 or more trips a day as purely altruistic. The scooters must be picked up nightly by a "Charger" which makes a minimum of $5 per scooter. They charge the scooter and place it back out the next morning fully charged. Given you're charged $1 plus 0.15 cents a minute, Bird would be losing money on a scooter if it wasn't getting utilized several times a day. Therefore since Bird claims the don't add scooters unless each Bird averages 3 or more rides a day, and the costs Bird incurs for under utilization, I'm using the three ride average as the calculation.
If a scooter is used 3 times a day on average for a year, each scooter would bring in an extra $2,190 dollars a year. That would mean $1,095,000 in extra revenue to Bird a year on a fleet of 500 scooters. While the City of Raleigh's yearly fee would cost Bird $150,000 resulting in a net profit for Bird of $945,000. Now, I get that we have to take into account the losses Bird will incur from reducing its fleet of scooters by 740, however, my issue is the extra fee is being called a "Tax" by Bird. If you went to a store and saw an extra sales tax on your receipt, you'd be annoyed, but you'd assume that money is going to the government right? In this example, imagine the store is actually sending a little bit of that money to the government but is actually pocketing the majority of it for extra revenue. That's wrong in my opinion.
Middle Ground
Both the Raleigh City Council and Bird need to come to some sort of compromise. City Council's regulations are, in my opinion, overly heavy handed. However, I'll admit, I'm much more disappointed in Bird's actions. If this continues, each side is going to escalate things, and we as Raleigh citizens will be made to suffer.
Over-regulation by City Council will impede our access to new innovative ideas and solutions that can really help our city. Letting a private business profit and operate while ignoring real issues it causes for our community while utilizing our community's public resources is wrong as well.
Here's what I'd propose. I'm not on City Council, and I'm no lawyer, but heres my two cents.
A flat fee of $100 per scooter per year.
Require all scooters be collected every evening by 9 PM and placed back out no earlier than 6 AM.
Require all companies share data showing where scooters are left/parked, number of trips each scooter takes, and distance scooter travels.
Scooters that have to be moved for parking violations or other issues by the city are fined $150. The company may choose to pass this fine to the last user who parked it, but the company must pay the fine to the city up front.
Companies agree to be held liable as written in the current encroachment agreement, and maintain a level of insurance as outlined in the current agreement.
City Council agrees to use all revenue not required for enforcement towards bike/pedestrian improvements.
Scooters are allowed on greenways, bike lanes, and on sidewalks where a bike lane is not available on the adjacent street. Council would have ability to restrict usage on certain sidewalks.
Companies agree to employ staff in the Raleigh area that is responsible for responding to complaints about scooters, improperly parked scooters, and other issues.
Companies will provide in-person training to contractors performing charging and basic maintenance duties.
Companies agree to ensure a certain percentage of contractors are from low-income households and also ensure only contractors with Raleigh addresses are eligible for charging and performing basic maintenance on scooters that are made available for rent within the City of Raleigh's territory.
I'll be the first to admit the above is not perfect, far from it. However, I feel it's at least a middle ground where discussions could start. Right now Bird and Raleigh City Council seem to be openly hostile towards one another, and that's bad for Raleigh citizens.
What do you think? Leave a comment below, comment on Raleighite's Facebook page, or post a tweet with the hashtag #ralpol!